With how much work we've been swamped with, it's no wonder we keep wanting to watch some short TV series and tvN's recent mini drama What Are You Doing In The Office? starring Lee Hakjoo and Ha Yoonkyung provided us with all the fun. Let's talk about this short drama in today's review.
So, I may or may not have a massive crush on Lee Hakjoo (no offense to his wife, lucky girl) ever since we watched My Name last year and when I saw he would be pairing up with Extraordinary Attorney Woo alumni Ha Yoonkyung I was sold and needed to get my hands onto this mini drama. However, What Are You Doing In The Office? provided me with a lot more than I expected – sex-positive story, female friendship, fun supporting characters/couple, freelancer representation and much more. Sure, the story teeters too close to having a love triangle but it was still very funny and enjoyable – and just 2 hours long! So buckle up and let's review.
From MyDramaList: Wi Da-In (Ha Yoon-Kyung) is an enthusiastic freelancer designer. She takes part in a project and works with Park Hyun-Woo (Lee Hak-Joo). Park Hyun-Woo is a team leader of a brand agency. Park Hyun-Woo and Wi Da-In shared a one night stand in their past. While working together, they both begin to have feelings for each other. Around this time, Wi Da-In's ex-boyfriend Jeon Jin-Seok (Jeong Jae-Kwang) begins to work with Wi Da-In and Park Hyun-Woo on the same project.
No spoilers ahead: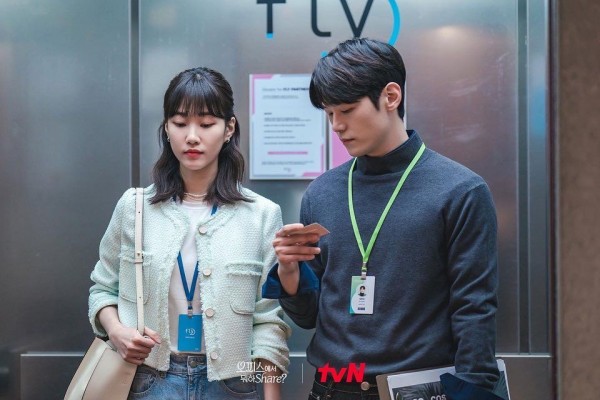 What Are You Doing In The Office? is very atmospheric but also very past-paced and fun. The characters are likeable and the chemistry between everyone is great. I'd say the biggest highlight of this mini drama was Ha Yoonkyung who carried the plot and the pace of the story so well. Her character was cute, stuck in a place where's she's not sure she fits and in that period of life when you're ready for big changes and tired of tolerating everything and everyone. Lee Hakjoo's character is a bit of a peculiar one because you can tell he's a nice, attentive person but he's also a bit more introverted (in a way) and it's often hard to read him. However, the chemistry between these two was there – I was rooting for them so bad, it's not even funny. They really made these 2 hours fun and had me on the edge of my seat in the game of will-they-or-will-they-not.
Another highlight of the mini drama was the humour and sex-positive talk. The female character and her friend (who is our supporting character) were everything to me in their men-talks and chatting. Considering this lasted only a bit over two hours, I had a good laugh quite a couple of times. Jang Jisoo as Park Sung Hee and Moon Yookang (who I realized halfway through is Lee Moo Gyul in Mental Coach Jegal – no wonder I kept thinking he looked very familiar) as Chae Seung Beom were everything to me. The way their storyline was hilarious from the get go was so unexpected and they had such nice chemistry together that it was so pleasant to watch them both separately and together. More main roles for these two, please! Moon Yookang was the scene stealer of the drama because wow, that's one stunning man.
The only thing I minded was the unfortunate love triangle (that's honestly not really a love triangle) simply because it took such a big portion of the story. However, I also understand where they're coming from – the point was to, in a way, show how Wi Da In grows as her own person, leaves her past behind and finally start anew. It's a process and she did well. I do wish we got a bit more screen time for our main couple in the end but the ending scene was absolutely hilarious. All in all, a really cute and fun mini series if you have 2 hours to spare and are in a mood for a fun rom-com. Lee Hakjoo is bae. Now give him a main role in a major rom-com.
Header Image Source: tvN