Son Yejin and Lee Minki made quite a duo in 2011 supernatural tragicomedy Spellbound and we are bringing you our review of this popular movie today.
Spellbound was a movie I was looking forward to watching for quite a while and it's actually been months since I did just that but I haven't had the time to write a proper review for it. Although the movie came out in 2011 it's still on many recommendation lists and I get why – the movie definitely has its flaws but it's very entertaining and with a great cast in the form of mainly Lee Minki and Son Yejin. This is my first time watching anything with them (yes, I know) and I thought it was a nice introduction to their acting although I'm aware of their way more popular projects. Spellbound is some sort of tragicomedy, horror and supernatural mash up and it somehow works pretty well but more on that in the review below.
From MyDramaList: Jo Gu, a street magician, meets a miserable girl, Yu Ri, during one of his performances, and she winds up the inspiration for his "Horror magic show." The show becomes wildly popular and Jo Gu is now a successful magician with a model girlfriend. Yu Ri begins working as an extra on the show but the darkness inside her, something her teammate's sense, keeps her from truly connecting with anyone else. Jo Gu's attempt to include her during dinner turns into a disaster when she gets blindingly drunk. Jo Gu calls Yu Ri the next morning, but when the phone disconnects with a weird noise, he starts to worry. When Jo Gu finds her, she confesses the long story behind her gray, wan face.
Since surviving a high school car accident Yu Ri has seen the ghosts of dead schoolmates and her one-time best friend Joo Hee. Joo Hee is a ghost, following her everywhere and scaring the people around her, leaving her totally isolated. Even Yu Ri's family eventually fled, leaving her behind to live alone in a tent, speaking only to a friend on the phone sometimes. During the course of Jo Gu's failed attempts to find the lonely Yu Ri a boyfriend she resigns herself to the idea of her solitary life is best in the grand scheme of things. And though Jo Gu is sometimes scared witless himself, the pair starts to develop a feeling for each other. Now consumed with jealousy, Joo Hee becomes a threat during the show and prompts Yu Ri to head off to join her family to save Jo Gu. Is getting away going to be that easy, or does Joo Hee have more tricks up her sleeve?
No spoilers ahead: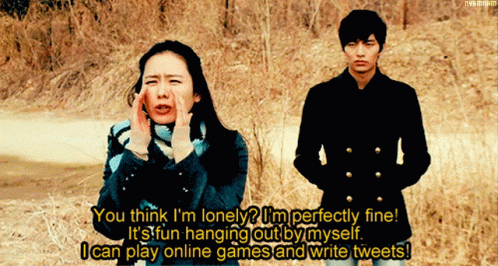 Well, that summary surely tells you pretty much everything that happens in the movie. Yu Ri (Son Yejin) was quite an interesting albeit miserable character due to the accident that happened in the past and it's easy to feel for her and her unfortunate destiny. However, she's also the main driving force of the plot and she makes for an enjoyable lead mixing up tragedy with some good comedy as well. Jo Gu (Lee Minki) is partly a jackass and partly a nice guy so you kind of want to smack him and give him a nice pat on the back at the same time. A lot of his actions weren't the best but he ultimately comes to his senses and serves as a complex lead with troubles of his own.
Spellbound's best moments are when these two characters are together because chaos insures every single time. That drunk shirt ripping scene? Had me in actual tears and that was only the beginning of the movie. There are a lot of sad moments in the movie, mostly revolving around the fact that Yu Ri pretty much had to give up any form of social life since the accident, but the comedy is just as present – especially when Jo Gu encounters ghosts. These two characters clashed in the best way and made for one unlucky but entertaining duo for sure – the chemistry was there. I wasn't the biggest fan of the already existing girlfriend plot but that trope is omnipresent at this point. Although the movie does have some horror aspects to it, it's definitely not scary aside from a few jump scares that you can predict. However, the suspense was definitely there.
I'd say one of the sweetest aspects of Spellbound is the friendship that sparks online (since Yu Ri lives in solitude and literally in a tent in her living room) between Yu Ri and her two friends (one of them being played by the very charming Lee Mi Do you might know from 18 Again). They are constantly supporting each other and talking about their problems even though they've never met in person and I loved that trope being used in such a nice way. It made me so happy when they eventually met as well because they were all so supportive and sweet. The movie doesn't offer many supporting characters but it works.
Spellbound isn't anything groundbreaking or overly original but it's really entertaining and makes for a great watch in my opinion. The leads are likeable despite their own flaws and troubles and the combination of comedy, angst and supernatural was really fun and it was easy to get immersed into the movie. Is it the best movie ever? No, of course, but it's nice enough for a re-watch even and has a pretty solid ending as well. Recommendation for a rainy June day maybe? 🙂
Header Image Source: CJ Entertainment