Kim Minjae in the cast is an instant watch for me and Park Gyu Young had me more than intrigued. They make for a fun and cute paring in 2021's Dali and the Cocky Prince!
This is the first review I am writing knowing it's going to drop in 2022 and that's just really intense. Dali and the Cocky Prince finished in late 2021 and since we have so many reviews stacked up for you this review by me is only coming to you now! I am excited to see what 2022 dramas have in store for us but for now I welcome you to the review of the last drama I watched and finished in 2021: Dali and the Cocky Prince because I saw Minjae in the casting sheet and just had to watch. I would die for this guy.
Summary via MDL: As a young boy, Moo Hak grew up in the market as a peddler. Although he is ignorant, he is strong-willed and knows how to make money. He is now the managing director of Dondon F and B, a global restaurant chain that his family started as a small gamjatang diner. However, he isn't dignified and only cares about money. He meets Da Li, the only daughter and child of an upper-class family who runs an art gallery. She has a profound deep knowledge of things. She gets faced with bankruptcy due to her father's sudden death and begins a hard life. Moo Hak and Da Li start a relationship as a creditor and debtor over the art gallery. Will these two polar opposites understand each other and fall in love?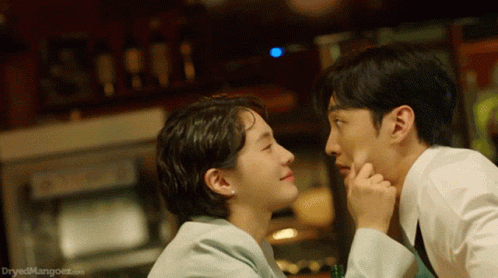 It turns out Dali and the Cocky Prince was much better than most people expected (I am people). I started this drama on a whim, basically just to see Minjae act more and in a proper lead role. I am saving Do You Like Brahms? for a rainy day. And I didn't expect to like it this much? I started looking forward to every single episode being quite invested in our lead couple. I don't really remember seeing a drama with Park Gyuyoung before but she really surprised me. I loved her acting and her chemistry with Minjae was amazing. Also she is so pretty and I want her to be my gf basically.
The plot developed nicely and had such good pace. The side characters gave us most of the funniest moments but also the leads gave us the perfect mixture of humor and romance, which is so rare. Sometimes they overdue it but Dali and the Cocky Prince does it right in all the right moments. No this isn't a very unique story, in fact it is quite predictable but that's the comfort in this show. It really felt healing to watch, a bit infuriating at times because we all know Lina hates injustice, but besides that it was really comforting. A weekly warm blanket. (Though some of our lead couples kisses were a bit weird… they had some other good and steamy scenes too tho).
The second male lead though was the most annoying antagonist I have have seen in a while and makes me hate a certain type of men even more. Ugh. But he played his part nicely and contribute to the development of the story well so I can't discredit him too much. Also, can we talk about that finishing plot twist? The writers were way too smart for that I loved it and they had me truly shocked.
Overall, Dali and the Cocky Prince had no business being this good for being a drama I had no clue about until I watched it for Minjae. If you want an easy but really cute watch I'd recommend Dali and the Cocky Prince to you! Also Kim Minjae is a m a n. One of my favorite mans in fact (How am I 10 months older than him wtf).
Header Image Source: Viki