2021 has been one hell of a year and we are glad to see it end. None the less K-Pop has fed us with plenty of music so it is time to share our Top 21 songs of this year with you.
Hello everyone and welcome to yet another struggle of picking best songs of 2021. This year has been a rollercoaster both musically and privately. There were a lot of great things like traveling with friends, reuniting with Lina, getting my master's degree, becoming an aunt & working a lot but with some great people. On the other hand, 2021 brought a lot of stress that's still omnipresent and mostly health related. I'm glad to leave this year behind although it wasn't as bad as the one before it. Music wise, 2021 offered a lot of things but a lot of them either fell flat compared to 2020 output or simply felt like a different version of things we've already heard billion times before. One thing I'm very grateful for this year is that some artists continued exploring the more retro-sounding wave that blew up last year and that SHINee made their long awaited comeback.
Last year (if you'd like to compare) I said that my most played songs actually just ended up being Dua Lipa and B1A4 and to make things even funnier that's pretty much what my playlist still looks like. Wish I was joking but things have been rough. A lot of boy groups positively surprised me this year and it's nice to see a lot now senior groups getting to produce their own songs, especially title tracks. On the other hand, there were only a few girl groups which released music I really enjoyed this year – most notably STAYC, ITZY & Rocket Punch, although solo acts such as Sunmi and Lee Hi had some great releases as well. A lot of artists from last year's top list reprised their appearance here too which I'm glad for. There also two acts which were listed high on last year's list but didn't make it at all onto this one and as much as that pains me, it's not necessarily a bad thing – I liked their 2021 music but just not as much as last year. Overall, 2021 was a mixed bag and it's been exciting trying to organize my favourite songs of 2021. Without spoiling too much let's get into this list officially!
I would love to know if we share any of the songs I picked or if you'd rank them completely differently so don't be shy to leave a comment! I love reading these lists! I am also continuing my own rule of picking one song from each artist so that the list doesn't end up being too oriented towards one or two acts.
21. NCT – Favorite (Vampire)
Favorite (Vampire) keeps aging like fine wine and don't be discouraged that it's ranked 21st here – I love it and I continue to listen to it a lot. I'd say that it didn't find itself higher on the list simply because I sometimes skip the verses to get to that breath-taking old-school SM chorus but that's a me problem, as Monsta X recently said. Favorite is definitely my favourite, pun intended, NCT release this year in general and the kind of sound I think the group does just as well as their hype-shout one. It's in releases like this one that the vocalists really get to shine and having Jaehyun actually leading the song a few times is a bonus point too. Original review: here.
20. Kim Sunggyu – Hush
Some second generation excellency, anyone? INFINITE might have given us a lot of crumbs this year in form of their interactions and friendship in general but musically wise I'm afraid we won't hear from the group until Myungsoo comes back… if even then. Nevertheless, the members were working on their own solo careers this year, whether it was music or acting, and I have to say that Sunggyu didn't need to release such quality music this year and yet he did it for us. Considering who the creative mind behind Hush is it's no wonder the song is just as good as it was the first time I heard it. You know I'm a sucker for anything nostalgic and emotional and Sunggyu delivered exactly that. Original review: here.
19. ITZY – Loco
ITZY have been a constant presence on the k-pop scene and my life as well since their debut and I think 2021 was one of their strongest years in terms of music. Whether you like it or not, Mafia in the Morning was a song I liked pretty much since the beginning and it would've found itself on the list if the group hasn't released Loco. ITZY always get a pretty strong set of polarizing opinions but I think Loco might be the closest we've got to their incredible Wannabe in terms of melody. This is my second favourite girl group release of the year (although STAYC's Stereotype comes close) and I think this kind of concept and vibe suits ITZY really well. I'm excited to see what they have in store next for us. Original review: here.
18. A.C.E – Higher
Now talk about a song that got severely slept on this year and for what? A.C.E have been bringing us nothing but quality since their debut and it seems a bit surreal that the group is already in their military phase. Higher is a song I liked on the first listen but ended up absolutely loving with time. I think there's just something a tiny bit magical about it, especially during its verses and Donghun's insanely breath-taking parts. Higher is by far one of my favourites this year both in terms of the song and the music video. I cannot wait for the military A.C.E era to be over because the k-pop scene will miss them very much. Do you think Jun can marry be before he goes too? Just kidding… unless? Original review: here.
17. Hoshi – Spider
SEVENTEEN had quite a phenomenal year, from their group work to their solo adventures and it's only natural this absolute alluring masterpiece is on the list. Spider was an instant hit for me and I feel like it only got better with time. It's the power of Hoshi – the vocals, the charisma, the choreography, the melody – everything just works perfectly. I'm really hoping for more of Hoshi's solo work. Original review: here.
16. ONEUS – Black Mirror
With the exception of No Diggity, which grew on me more over time, ONEUS is a group we definitely praise the most on the blog and for a reason – it seems like the group decided to release quality music ever since their debut and they're still going strong. I debated whether to include their recent Luna here but Black Mirror has a slight advantage of being the older release and so I can confidently say it held up fantastically. It's one of my most played songs of 2021 and it still puts me in the absolute best of moods. I love the way the song is structured and the way everything is connected so smoothly. Truly a fun release that deserved more attention. Original review: here.
15. Jeong Sewoon – In The Dark
I mentioned this song way too many times this year for anyone to be surprised it's here on the list and at such a nice place. If you've been with us for a while you surely know I adore Jeong Sewoon and the fact that he released one of my favourite 2021 songs just 6 days into it says a lot. He was not kidding around when he started off the year with In The Dark. In The Dark has been a constant emotional support for me throughout this whole year and I'm glad I can say I still love it just as much as I did at the beginning of the year. Jeong Sewoon needs more love and appreciation because he just doesn't know how to release a bad song. Original review: here.
14. Baekhyun – Bambi
We are finally reaching the phase where I include the songs I almost completely roasted in my original reviews. Buckle up friends, it's going to be a fun ride. Looking back at the original review I cannot say that I was lying – I really didn't feel Bambi at all until a few months after its initial release. I think it was the Baekhyun-enlistment depression hitting me hard but Bambi came on shuffle and something just switched in my brain that made me think wow, was I insane not to like this? Sometimes we listen to a song so much we end up liking it but Bambi just cornered me and said you're gonna end up listening to me almost every single day. Funnily enough, the same happened with his last year's Candy which was one of my favourites as well if you remember. Baekhyun come home, I'll take more of these I promise. Original review: here.
13. WOODZ – Lullaby
I told Lina that I'm planning on only including songs which had a music video (titles or b-sides) but it's WOODZ so I'm breaking this rule. Either way, he would've found himself on this list, if nothing then with his amazing Waiting but I was thinking since I'm gonna include him anyway why not include the song that pretty much got me through this year. I wish I was joking but I've listened to Lullaby so much and yet I still get chills each time I hear it like it's the first. I strongly believe, just like with last year's Accident, that this is the type of sound WOODZ does best and it even sounds better live. Only WOODZ. Jokes aside, I'd like to thank him for the incredible output in 2021 because everything he released was excellent. Original review: somewhere here.
12. WONWOO X MINGYU – Bittersweet (featuring Lee Hi)
Sad, nostalgic music on Una's list? Impossible. [cue the fake gasps] Jokes aside, this was definitely another song which completely surprised me this year. I love Wonwoo and Mingyu and I love their vocal tone but I had no idea they'd deliver something that fits my music taste so perfectly. The melody, the nostalgia, the feeling of slight heart-break, the raspiness of their vocals paired with Lee Hi's honey voice – perfection. I listened to Hoshi's Spider quite a lot this year too but Bittersweet stole my heart from the first listen and I still love going back to it. One of my favourites when it comes to music videos as well. Original review: here.
11. Moon Jongup – Us
I think this song ended up being the biggest surprise of 2021 in terms of quality and catchiness. We all know Jongup is talented in all areas but there is something about Us that took this to the next level. Everything about this song screams pop excellency and it's a shame that it didn't blow up as it should've had. The melody, the hook, the choreography – everything was top notch and I enjoyed watching his dance challenges for this comeback so much. I wish Jongup would dance for me like he does for that girl at the end of the music video. He better give us new music soon. Original review: here.
I am actually laughing because I realized I never added my part in the end – I'll keep it like that cause Lina's commentary is hilarious. Life was a mess but Lina had my back. Slight joke but my biggest memory of Us is when Lina was playing it for me while I was trying very hard not to throw up on a bus ride taking us back home. I don't know if you knew this Lina but I think you & Jongup saved me from dying there. Love you!
10. BAE173 – Loved You
I don't think anyone is shocked that this song is here and starting the ultimate Top 10 favourite songs of 2021 section. BAE173 haven't been nearly as active as I'd like them to but they did give me a modern rendition of what could've been an old-school BIGBANG release this year in the form of Loved You. I think it's ridiculous how many times I've listened to this song this year. This is the kind of melodic angst I adore and BAE173 delivered it perfectly. I was very surprised by the rasp and raw emotions expressed through their vocals, especially since I'm still not that familiar with all the members. I really wish this song got more attention because it really brought back all the stunning 2nd generation melodies all of you are always crying about. Original review: here.
9. Monsta X – Gambler
Talk about a grower. Gambler was another song I wasn't feeling as much on the first listen but wow, did that change in the span of about a week. This song has officially been the biggest grower of 2021 when it comes to k-pop and I'm not ashamed to admit it. Gambler definitely experimented a lot with sound and melody, especially during that laid-back chorus but Joohoney know what he was doing when he produced this because that skillful guitar that follows the song truly elevates everything. Gambler's bridge and final chorus remain some of the strongest ones of this year and I'm still not tired of it.
Monsta X somehow always come through in the end and I respect that. Their 2021 output has been great with Gambler and One Day being some of my absolute favourites. Original review: here.
8. ASTRO – One
2021 was ASTRO's year in every way. Already nearing their 6th year, ASTRO have definitely become more confident and gained the sort of attitude you only get with years in the industry. It's apparent that the group also feels a bit more comfortable now that they've gained the attention of the wider audience and that's a joy to see. One initially wasn't a song that charmed me right away but I've already apologized to it before because it just kept growing on me more and more to the point that I was afraid I would over-listen to it. The more time passed the stronger the song became in all of its aspects but this Moonbin-biased girl has to admit that first chorus must have had something to do with this (that head tilt had me in a comatose state for a month). In the end, One ended up being one of my favourites this year and I'm excited to see what ASTRO plan for 2022. Original review: here.
7. Rocket Punch – Ring Ring
I may not have a lot of girl group releases on the list this year but Rocket Punch completely exceeded my expectations in 2021. Last year EVERGLOW gave us the retro-inspired La Di Da which was also in my Top 10 favourite songs but this year it seems like Rocket Punch decided to continue that retro tradition. While the upbeat, cute songs fit the group well, this is the sound that really made me see them in a whole new light. Interestingly enough, I actually said this might be my favourite girl group release of 2021 in the original review and it actually ended up being correct. I've listened to Ring Ring an unhealthy amount of times and I'm still absolutely enamored with it. The melody, the retro-instrumental, the two-part chorus, the music video – perfection. Original review: here.
6. Taemin – Advice
Funnily enough Taemin claims the same spot he did last year and for a reason – even though he's been in the military most of this year, Advice remained a strong presence on the k-pop scene and on my playlist as well. The song gathered a mixed response among listeners but I've liked it immediately and I think I might have even over-played it when it came out. Nevertheless, Advice remains just as catchy and strong as it was when it was first released and paired with Taemin's music show performances and promotions it only got better. This was definitely something new for and from him and I think it worked pretty well. Needless to say that the styling from this comeback will go down in history. Original review: here.
5. SEVENTEEN – Rock With You
This is the most recent release that found itself in Top 10 and I have no regrets. While SEVENTEEN's Ready to Love did end up growing on me a lot, Rock with You had me right from the first verse. I'm still absolutely obsessed with it and I haven't encountered a song this year that puts me in such a good mood as this one. There isn't a single flaw I can find when it comes to Rock with You – the verses, rappers singing, the pre-chorus, the catchy chorus, that upbeat instrumental, Seokmin going absolutely mad during that bridge… everything just fits perfectly. This comeback was just pure happiness for me – I could listen to that Mingyu x S.Coups part in the first verse forever. Original review: here.
4. ENHYPEN – Fever
I was telling Lina let's only do title tracks for Top 21 but then I remembered that Fever isn't actually a title but a b-side. Well, rules were changed and do I care? No. This is another example of a song I didn't really connect with right away, preferring the actual title track (which also really grew on me), but after about a month or so this little song here came on shuffle and my brain just halted – what song is this? Turns out it's the b-side everyone was loving but you, Una. Well fast forward to December 2021 and this is not only one of my favourites but also one of my most played songs in general and I still think it sounds fresh and alluring. This song also got me to genuinely remember everyone's names so that's an improvement as well. Not to be dramatic but I could listen to that Niki x Sunghoon section until the day I die, which I hope is not soon. ENHYPEN keep delivering good music and 2021 proved that. Original review of the album: here.
3. SHINee – Don't Call Me
Is anyone actually surprised this is here? While I love Atlantis, Don't Call Me was the SHINee song of 2021 that I kept going back to nonstop. Don't Call Me holds a special place in my heart with it being their long awaited comeback in actual years and a fantastic one at that. Don't Call Me was something completely new from the group and it really sounded like it's SHINee showing 4th generation how this type of sound is actually supposed to be done which I appreciate. The music video, the attitude, that delicious bridge and final chorus, Key's vocals reaching their best here – everything still holds up even now. I've watched every single music show and fancam from this era and I miss it so much – their music show wins were such a delight to experience once again. SHINee, we miss you. Original review: here.
2. KEY – Bad Love
Another surprise, am I right? KEY always has our expectations high and met but this exceeded them by a whole mile. From the moment I heard the retro instrumental I knew I was going to literally live off of this song for the rest of the year at least. I was actually on a bus trip for a 3-day post graduation vacation with my friend when this dropped and we most definitely used our data to watch and listen to the whole album. I feel like KEY set the standards way too high because Bad Love was good on the first listen but it's pure heaven now that I've probably listened to it more than 100 times. The music show performances were amazing and everything regarding this era truly holds a special place in my heart. The whole album is still 10/10. Original review: here.
1. TOMORROW X TOGETHER – 0X1=LOVESONG (I Know I Love You)
If you know me, you were either already guessing TXT is going to take the crown for 2021 or you were wondering where on Earth is TXT on this list. Here they are – placing first in this hard to make list of my favourite 2021 k-pop songs. The group was already placing high last year, and with a b-side at that, but their 2021 music has been absolutely insane – in a good way, of course. Both their Korean albums were very strong with plenty of fantastic b-sides and with two titles which honestly marked this year for me. I Know I Love You was a love at first listen and it remained the same throughout the whole year. The nostalgic, pop-rock inspired sound ended up being one of TXT's best editions so far and I feel like it marked a completely new chapter of their career.
Taehyun's I know it's real / I can feel it during the pre-chorus is still one of my favourite parts in 2021 songs but that chorus truly remains one of the best we got this year. I've already liked pretty much everything TXT has released so far, even when it was polarizing, but this sealed the deal in a whole different way. My favourites without any doubt but if you follow our blog you already know that well. Let's hope the group continues with quality in 2022 too.
Well that was one hell of a ride! Thank you for joining it with me. Here are just a few honourable mentions (songs not mentioned through the post) that almost made it onto the list but make sure to check out our upcoming posts regarding 2021 cause we have more content coming out soon:
2PM – Make It; ATEEZ – Deja Vu / I'm The One; iKON – Why Why Why; Golden Child – Ra Pam Pam / Burn It; Highlight – Not The End; (G)I-DLE – Hwaa; Kim Jaehwan – I Wouldn't Look For You; VICTON – What I Said; Stray Kids – Thunderous; CIX – Cinema; Kang Seungyoon – IYAH; STAYC – Stereotype / ASAP
Weeekly – After School; TWICE – Alcohol Free; Brave Girls – Chi Mat Ba Ram; SUPER JUNIOR D&E – Zero; OMG – Dun Dun Dance; EXO – Don't Fight The Feeling; J.DON – Clicker; Sunmi – Tail; ONF – Beautiful Beautiful / HyunA & Dawn – Ping Pong / Kang Daniel – Paranoia / WEi – Bye Bye Bye
For the end, here is my favourite non-Korean release and my favourite non k-pop release.
YUQI – Bonnie & Clyde
Absolutely in love with this song and Yuqi's voice just like the first time I heard it.
WayV – Kick Back
WayV are here again this year but this time with Kick Back which grew on me immensely over time. They can thank that phenomenal pre-chorus and Xiaojun existing for that as always. Original review: here.
Honourable mentions: Jackson Wang – LMLY / BTS – My Universe / TXT – Magic / Monsta X – One Day
BIG Naughty featuring Jamie – Joker
I still cannot believe a 17 year old released this absolute masterpiece. I actually suspect this is one of my most played songs of 2021 and for a reason – everything about it is fantastic from start to finish and I'm still obsessed with it. A true revelation in music industry for me. Original review: here.
Honourable mentions: Cold Bay – LIP / BLOO – Come and Kiss Me / Jessi – Cold Blooded / RAVI – Bum / Xydo – I
This long post is finally over, thank you very much for sticking with me till the very end and I hope that you enjoyed some of the songs I mentioned through it. I would love to hear your favourites or if we share any from the list! Here is once again the list from last year if you're interested in comparing.
Until next time, Happy New Year and let's hope it's a better one! Thank you for being with hallyureviews in 2021.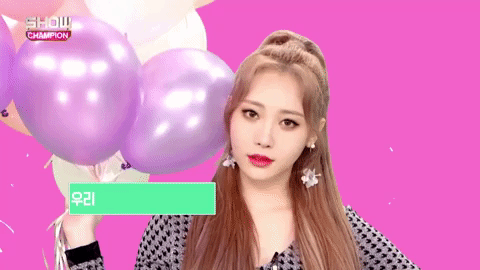 Header Image Source: Made by Lina for hallyureviews