Welcome to Our Song Of the Moment where we spill on songs that have been out for a while but are keeping us going in a particular moment.
Is anyone up for some real nostalgia this week? I sure am. To be fair my k-pop playlists mostly consist of 2nd and 3rd generation music and so I'm in a state of nostalgia all the time. I was actually debating whether to write a SOTM on E.R or The Ghost of Wind (fun fact: both have the same songwriters) cause both songs have been pretty much carrying me on their backs this year but E.R definitely deserved some spotlight as I listen to it every day. Not even joking. I don't know what kind of emotional trauma they put into 2nd generation k-pop music but it's truly unbeatable in its dramatic antics and melodies.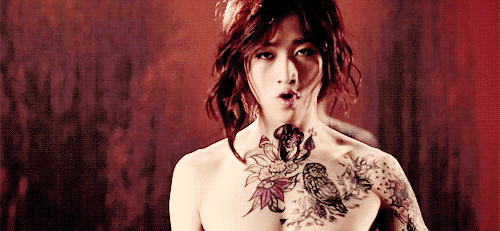 You know the song is about to be good when it starts with a dramatic English intro. E.R is the lead single of the group's 2012 album State of Emergency and it was written by the great Duble Sidekick (who have written a lot of great k-pop songs, including one of my 2021 favourites Loved You). The comeback came after over a year long hiatus of the group which also saw line-up changes and it also marks a change in their concept. Well, I would wait 5 years if it meant that a group would deliver a song as phenomenal as E.R – not even joking. E.R does everything right, from the theatrical performance (paired with some shirtless, tattoo visuals) to its insanely catchy and nostalgic melody. The verses set the mood of the song quite well, promising a somewhat mysterious, heart-breaking path but it is that chorus that truly seals the deal. I am a sucker for this type of music, the dramatic, melodic, old-school sound which makes me want to go out in the rain and yell while spinning round in circles. I'd say that E.R is the little sister of BEAST's Fiction because both songs make me want to do exactly that.
The music video is peak early 2010s in k-pop and I love it. Fun fact, one of my friends who adores this song as well initially didn't want to check it out because of the half naked thumbnail. That still makes me laugh. To be fair, k-pop music videos can be a bit wild when it comes to this – on one side you have the singers singing about falling apart and breaking up and on the other side you have them body rolling or doing the choreography shirtless with tears in their eyes (VIXX's Eternity also says hi). I just need to say that Donglim looks absolutely insane here – his visuals are overflowing, hence the gif above.
I think it's absolutely insane that DMTN didn't achieve major success, especially with a song like this one, but circumstances weren't the best, especially after Daniel's scandal but I think E.R is enough of a strong legacy for them. When you have a song this good in your short-lived discography you kind of need a round of applause. The group also has the great Safety Zone which is another k-pop gem that deserved to be appreciated more. I think DMTN had such a fantastic path in front of them music wise and it is exactly this sound that I miss the most in k-pop now.
PS. The group did release a song for their 10th anniversary after 7 years of hiatus which was a really nice surprise.
Header Image Source: Made by Lina for hallyureviews