You may have heard about the little drama called Vincenzo that was from February til May on tvN and Netflix respectively. The drama has Song Joongki, Ok Taecyeon and Jeon Yeobin in the main roles, which made for amazing chemsitry.
I cannot believe it took me nearly 2 weeks after Vincenzo has finish that I am finally sitting down to write this review. I just had so many thoughts and feelings and had to basically get over the drama and digest it to be able to write anything down. I have also been incredibly busy but my schedule is finally clearing up, so I have finally time to sit and write this thing. First off, I really think Vincenzo is going to be one of my favorite dramas this year, there isn't much I hate about it and I think the cinematography, the acting and the cast were phenomenal. Don't get me started on the amazing OST. But let's get into it for real now!
Vincenzo synopsis via AsianWIki: At the age of eight, Park Joo Hyeong went to Italy after being adopted. Now an adult, he is known as Vincenzo Cassano to the Mafia, who employ him as a consigliere. Because mafia factions are at war with each other, he flees to South Korea, where he gets involved with Lawyer Hong Cha Young. She is the type of attorney who will do anything to win a case.
The synopsis leaves us with a pretty vague idea of what the drama is actually about but it gets the main point across. A mafia lawyer helping a Korean lawyer to fight the evils of Korea. It makes for an epic and dramatic show. Add Joongki's visuals to the mix and amazing humor and you got the perfect recipe for success! I have to fully admit that I was originally not even planning to watch this show. I saved Vincenzo to my drama list when Taecyeon was announce but from the synopsis then I wasn't feeling the drama. Boy, would I have been missing out if I didn't watch this one.
I ended up being addicted to Vincenzo and watching every episode on the edge of my seat. I hadn't expected for this drama to be this good but I think this really stems from the great cast, the quality of acting and the chemistry. The chemistry of the entire cast especially the plaza gang was everything to me. I think anyone who has watched Vincenzo will agree with me when I say this is one of the best cast we have gotten in a while. I really don't think I've watched this much bts material and extra videos for any other K-Drama. Vincenzo gave us the most and I genuinely think all the actors had an amazing time while filming.
So, it's still really hard for me to actually form my thoughts and say anything of content but I was so positively surprised with Taecyeon's acting. He has grown so much as an actor and this role was really his breakthrough, especially if you compare it to last year's The Game: Towards Zero. Where is his Oscar? This was brilliant. But the same goes for Song Joongki and Yeobin, their dynamics and chemistry were truly insane, and I haven't loved a ML duo this much in so long. Their interplay, their humor, everything was perfectly well and balanced. Yeobin is such a great actress, I haven't watched many dramas with her before but she is definitely on my radar now.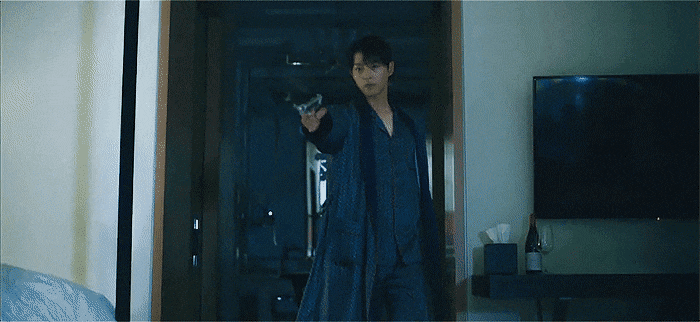 Vincenzo does have a great balance between intense moments, fighting scenes and humor, which makes for a really great mix and keeps you entertained. I was really scared that the drama would decrease in quality or have a horrible ending but the opposite happened. Each episode got better every week and the ending was very satisfying and perfect for this kind of drama. I also loved that the focus was mainly on friendships and revenge, while love and romance took a step back. Of course, we got a smooch here and there and I did enjoy that as well. But can we agree that the BL episode was kind of everything? It was so funny, I loved it so much.
But yes to track back, I loved the supporting cast so much, and it is hard to pick a favorite from the crew but it is Jang Hanseo and my boy 97-liner was kinda robbed. Anyway, I will just say that I miss them all incredibly already. Vincenzo won't leave me for a while, and I think Joongki is feeling the same way. I think this role was life changing for him and Vincenzo hopefully shakes up the K-Drama industry a bit. Admittedly as someone who speaks a bunch of languages I thought Joongki's Italian was a bit awkward but still very cute and I am impressed with how committed he is to roles, the stunts must have been hard but they were so good! Vincenzo has really great fighting scenes and you can tell the cast put a lot of heart, sweat, and tears into the making of those scenes.
Anyway, I'll stop my gushing over Vincenzo now and just tell you that I absolutely love it and I see myself rewatching this drama in the future. Nothing will probably compare, so if you haven't watched it yet go do it now. Were some episodes a bit too long? Of course, its a K-Drama after all but I enjoyed them nonetheless. I also wanna mention how amazing the OST is and I have one song stuck in my head, I have been listening to it like a mad woman. If you follow us on Twitter you probably know already, but I'll link it down below as well. However, let me know what you thought about Vincenzo! Let's cry over it ending together and how much we miss it already.
P.S: SPOILER AHEAD I can't believe we didn't get a funeral for Hanseo…
Header Image Source: Netflix.